Premium Banking with $0 monthly fees1
All the features you'll need, plus thousands of designs you'll love.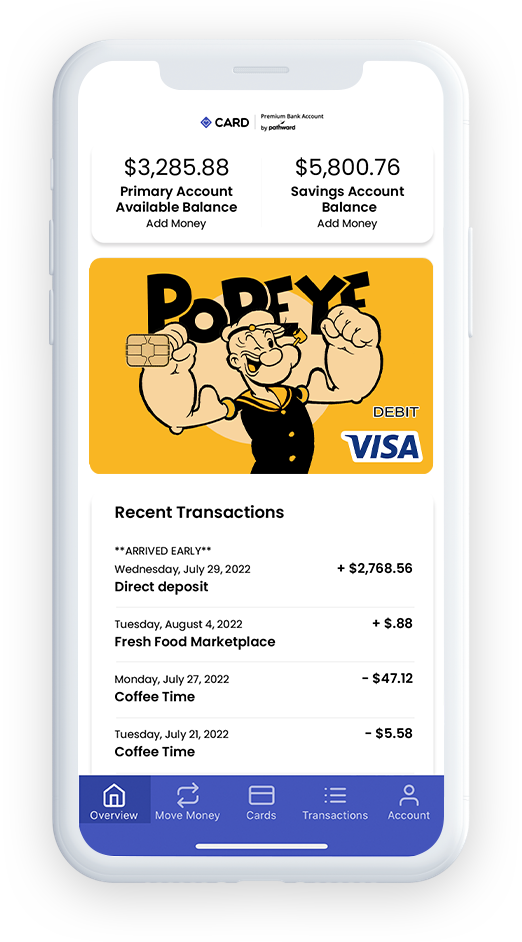 Optional Overdraft Protection2
Feel safe knowing you won't be caught off guard.
Get your paycheck early3 with QuickPay
With QuickPay Direct Deposit you can get your paycheck up to 2 days earlier.
We hate fees as much as you do
$0 monthly service fee1, Fee-Free MoneyPass® ATMS1, No minimum balance
Start Building Your Credit History5
Furthermore, we partner with Self. to help you build credit history for any stage in your financial journey.
Plus more world-class banking features
Grow your savings automatically
Save some money for a rainy day while earning interest, with our Optional Savings Account4.
Security & Protection
Your deposits are FDIC insured7 up to $250,000, through Pathward, N.A., Member FDIC.
Pay anyone
Use our Bill Pay Service5 to pay bills electronically, or send a check and we'll mail it to anyone you need to pay.
Choose from over 12,000 custom designed cards
No plain cards here. Choose your card from our extensive collection below:
Stay in the know - even on the go
With RapidAlerts6 you can customize your balance and transaction notifications to always know where you stand.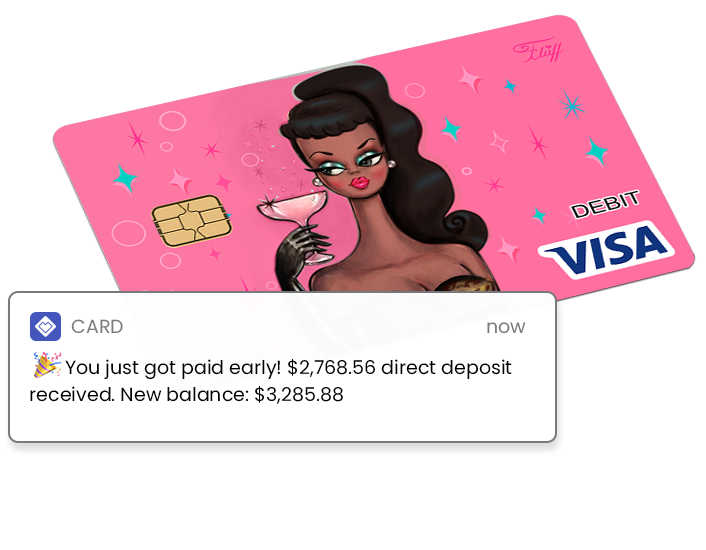 Why settle when you can have options
Add up to 3 card designs to your collection that match your personality.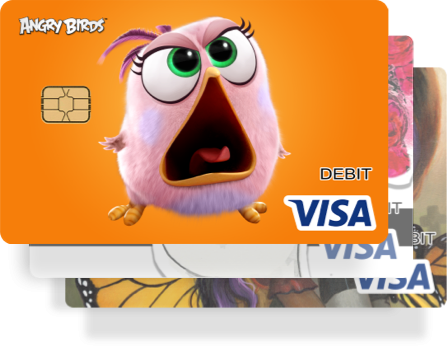 Trusted by Millions
CARD has spent years providing fair, fashionable, and fun financial products to our customers.
We're accredited and highly trusted by our users and partners.
Ready to get started?
First, choose a card that you love, and we'll take it from there.
1. While this specific feature is available for free, certain other transaction fees and costs, terms, and conditions are associated with the use of this Account. See the Accountholder Agreement for more details.
2. The Overdraft Protection ("ODP") Service is an optional service made available to eligible Customers by Pathward. Once you enroll and meet eligibility requirements, you will be charged a $15.00 fee for each purchase or transaction settlement greater than $5.00 that occurs while your Account available balance is overdrawn beyond the $10.00 Balance Buffer, up to four (4) Overdraft Protection Services Fees per calendar month. Any negative balance must be repaid within thirty (30) days. Whether we authorize an overdraft is discretionary, and we reserve the right not to pay. For example, we may not pay an overdraft if you fail to meet the eligibility requirements or attempt too many transactions or transactions that create too large of an overdraft. Contact Customer Service or log in to your Account for full terms and conditions that apply, including eligibility requirements and standard overdraft practices. This service may be expensive, so we encourage you to research alternatives before enrolling. Once enrolled, you may opt-out at any time; however, you are responsible to repay any overdrawn amounts on your Account even if you opt-out of the service.
3. Faster access to funds is based on a comparison of traditional banking policies and deposit of paper checks from employers and government agencies versus deposits made electronically. Direct Deposit and earlier availability of funds are subject to payer's support of the feature and timing of payer's funding.
4. The Savings Account linked to your CARD Premium Bank Account by Pathward is established by Pathward, N.A., Member FDIC. Interest is calculated on the Daily Balance of the Savings Account and is paid quarterly. The interest rate paid on the entire balance will be 0.0499% with an annual percentage yield (APY) of .05%. The interest rate and APY may change. The APY was accurate as of 08/17/2020. The minimum balance required to open the Savings Account is $10. The minimum daily balance required to obtain the advertised APY is $10. You must receive one (1) payroll or government benefits direct deposit to be eligible to open a Savings Account. Savings Account funds are withdrawn through the Premium Bank Account and transaction fees could reduce the interest earned on the Savings Account. Funds on deposit are FDIC-insured through Pathward, N.A., Member FDIC. For purposes of FDIC coverage limit, all funds held on deposit by the accountholder at Pathward will be aggregated up to the coverage limit, currently $250,000.00.
5. This optional offer is not a Pathward product or service.
6. Standard data rates, fees, and charges may apply.
7. Funds are FDIC insured, subject to applicable limitations and restrictions, when we receive the funds deposited to your account.
The Card Premium Bank Account is a checking account established by, and the Premium Visa® Debit card is issued by Pathward, N.A., Member FDIC, pursuant to a license from Visa U.S.A. Inc, and can be used everywhere Visa debit cards are accepted.